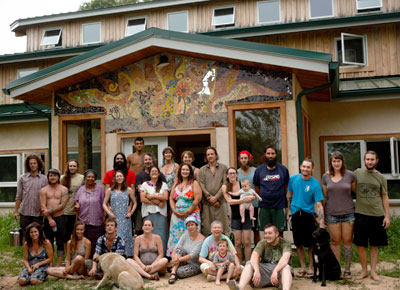 Our early history
---
Ways we support organic gardening, sustainable agriculture, and seed-saving
---
---
Quality Promise
---
Our Non-GMO Policy, and the story of how we joined with other seed growers and farmers to sue Monsanto
---
Why Heirloom Seeds?
- by Cricket Rakita
---
Open Pollination
---
What we offer
Southern Exposure Seed Exchange offers more than 700 varieties of
vegetable
,
flower
,
herb
,
grain
and
cover crop
seeds. We emphasize varieties that perform well in the Mid-Atlantic and Southeast, although gardeners and farmers over the country grow our seeds. As of 2017, over 60% of the varieties we offer are
Certified Organic
, and over 60% are
grown by small farmers we know and contract with directly
. We offer many unusual Southern heirlooms,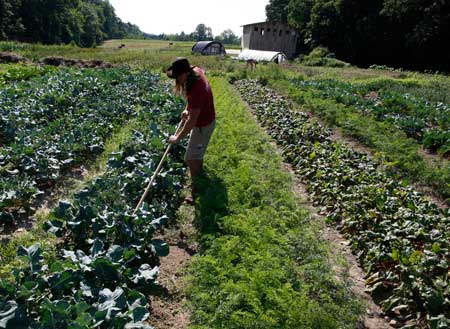 including peanuts, southern peas, naturally colored cotton, collards, okra, roselle, turnip greens, corns for roasting and meal, and butterbeans. We do not sell chemically treated seeds.
---
Our business structure
We are a worker-run cooperative where every worker has a voice in the decisions of the company and where workers receive equal compensation regardless of the economic value traditionally placed on the jobs done. We strive to provide a flexible and enriching work environment where each person is inspired to take on multiple roles and to think creatively about how we can continue to improve our work. We have a commitment to quality in all aspects of our service to our customers.
---
Our location
Southern Exposure Seed Exchange is located in the rolling hills of central Virginia, between Richmond and Charlottesville, not far from Thomas Jefferson's Monticello. Our 72-acre farm has goats, chickens, hayfields, an herb garden, and extensive vegetable gardens for seed production, trialing, and eating. Recently, we hold an open house at least once a year, and we may have additional public events here in the future. However, we do not have a storefront, and our location is not open to the public on a day-to-day basis.
---
Our seed storage and testing
All our seed storage areas are air conditioned, refrigerated, or frozen for long-term viability. We also dehumidify our seed curing and seed storage areas to prolong seed viability. Our seed is germination tested to ensure it meets both federal and Southern Exposure standards (our standards are higher than federal standards for some varieties.) Test results are printed on the packet to help you determine planting density and quantity needed. Please note that germination tests are often conducted under optimum conditions and that field results may vary.
---
Our current organic certificate is available
here
as a PDF.