Order a Print Catalog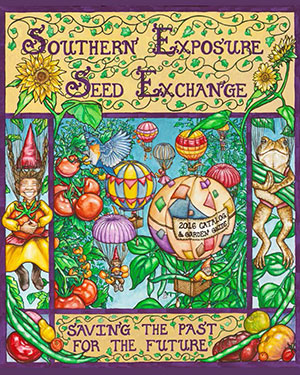 Request a FREE copy of our 2016 Catalog. Free catalog take 2-4 weeks to arrive, as they are sent in bulk mailings.
For a $2 shipping fee we will send you the 2016 Catalog rush delivery - your catalog will usually arrive within 1 week.
If you would like a catalog to be sent to Canada or Mexico please include $5.00 with your mail-in request. We are not currently accepting international orders from countries other than Canada or Mexico.
Electronic Versions of Our Catalogs
Download the 2016 Catalog (PDF).
To read PDF files, get Adobe Acrobat Reader. (Or use a free, open-source alternative such as GSview or Xpdf.)
More About the Southern Exposure Seed Exchange Catalog and Garden Guide
"Saving the Past for the Future" — We offer a delightful catalog of heirloom seeds and gardening accessories. AND it contains far more useful information and interesting stories than your "garden variety" seed catalog. Learn seasonal garden tips, disease and insect control, seed saving, and detailed variety descriptions.
Our seed varieties were featured on The Victory Garden TV program, and in magazines such as National Gardening, Organic Gardening, and The Mother Earth News. All our seeds are free of chemical treatment, and most are grown organically or without pesticides.
The Southern Exposure catalog includes over 750 varieties of open-pollinated, heirloom, and traditional varieties of vegetables, flowers, and herbs, many available for the first time. We also have a large selection of garlic cultivars, including new Asiatic types, and rare perennial onions. Plus there are books, gardening supplies, and seed-saving supplies and information. We will refund or replace any seeds or accessories if you are not satisfied with them.
We look forward to serving your gardening needs and to filling your order in a professional and timely manner. Here's to your gardening success!