Living Energy Farm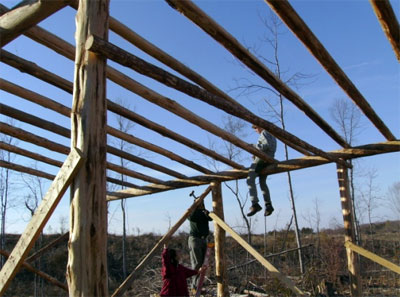 Alexis Zeigler and Debbie Piesen acquired land one mile North of Louisa, VA, in November 2010, and founded Living Energy Farm (LEF), a project to build an intentional community, educational center, and demonstration farm that operates without the use of any fossil fuel. Their mission is to serve as an example and actively promote lifestyles and technologies that are truly sustainable, and to make these sustainable technologies accessible to all persons regardless of their income or social position.
In their first growing season, Alexis, Debbie, and volunteers from surrounding intentional communities cultivated approximately one acre of vegetable seed crops for Southern Exposure, including squashes, cucumbers, watermelons, tomatoes and corn. Growing seeds for Southern Exposure gave Living Energy Farm the opportunity to quickly begin generating farm income.
Alexis previously wrote
a booklet on fruit propagation for diverse orchards
, and Living Energy Farm orchards already include many species of fruit trees. Living Energy Farm uses a woodgas tractor to plow their fields. They get around by bus, bicycle, and carpool. Their drip irrigation systems are made with durable plastic. They irrigate when the sun is shining, so as to use solar energy and avoid using toxic batteries.
Their minimalist website, www.livingenergyfarm.org/
has more information about the technologies they use. Since starting their farm, Alexis and Debbie have had two children.