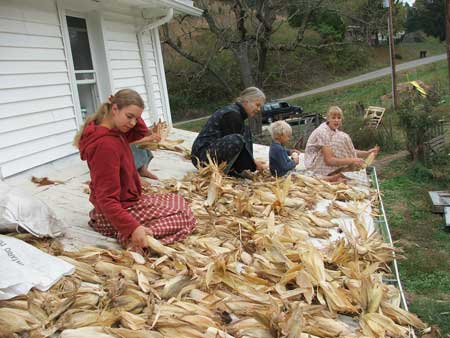 Richard Moyer and family tend one of the most diverse farms around Castlewood, VA. They grow organic vegetables and fruits for the Abingdon Farmers Market and local chefs. They raise turkeys, geese, ducks, chickens, a dairy cow, milk goats and beef cattle. They started growing seeds in 2009, and since then seed crops of flowers, beans, sorghum and corn have been an increasing share of the farm income.
Wendell Berry has noted that many of us in America today are consumers and not producers. This certainly does not apply to the Moyer Family--every member of the family, including all six children, is a producer! Five of the six Moyer children, who are homeschooled and learn farming as part of their education, have seed-growing contracts with SESE. The oldest, at 21 years of age, tends to the muskmelons, while one of the youngest, a 9-year-old girl, is in charge of the zinnias.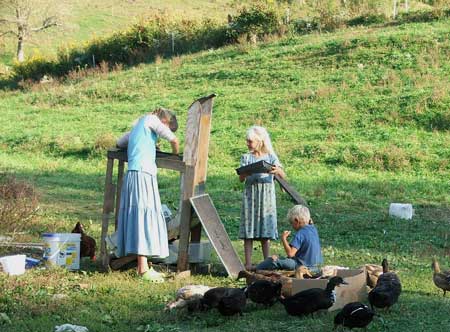 Their father, Richard Moyer, says that growing seeds gives the kids opportunities to be independent, see projects from start to finish, and make some cash without having to leave the farm. "Instead of working at McDonalds, [seed growing] is a way for them to be on the farm and do their own thing," he says.
One of the Moyer children is even continuing a family legacy with the help of SESE. Recently, the Moyers learned that Richard's great-grandparents' were broom makers, growing their own broom corn and making and selling brooms. When Richard's son heard this, he decided to buy broom corn seed from SESE. Now, after five generations, the Moyers will again make and sell brooms thanks to heirloom seed preservation.
At the community farmer's market, the Moyers have found that locals are particularly fond of heirloom German Johnson tomatoes."People come up to us and say, "Oh, pink tomatoes! My granny/uncle/mother used to grow those."" Growing heirloom produce is a way for the Moyers to honor their customers at market by offering the foods they grew up with, which connects them to farms and family members of the past.