Our Seed Growers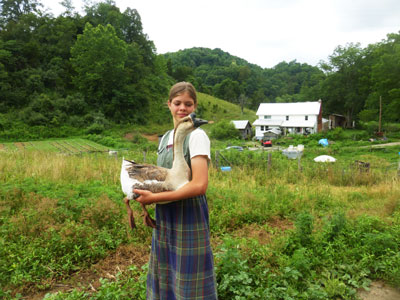 It takes many farms to grow a collection of seeds like what we offer. We're proud to work with a network of over 50 small farmers in various parts of the US who grow seeds for us. We hope to continue to expand this network. We're always happy to talk to farmers who want diversify their income streams and grow seeds. Preserving unusual heirloom varieties helps us to preserve and promote that other endangered breed - the American small farm.
A large percentage of the varieties we offer are grown by us or our growers. In contrast, the vast majority of the seeds on the market are produced by huge wholesale companies. Among the seeds that we buy from growers, we find a much lower (very low) rate of off-types than among seeds we buy from wholesale companies. Our growers are trained in seed selection and processing for maintaining pure, true seed that is adapted to organic conditions.
Many of the farmers we work with are certified organic, so their crops receive the "OG" symbol in our catalog and on our website. Others, while ecologically oriented, find that organic certification isn't worth it for their farms and gardens; their crops receive the "e" symbol in our catalog and on our website. Click the links below for profiles of several of the farms that grow seed for Southern Exposure.
Virginia
Ann Shrader
Barbara Rosholdt
Beth Shelley
Brightwood Farm
Living Energy Farm
The Moyer Family Farm
Slade Farms
The Smythe Family of Rehoboth Farm
Twin Oaks Community Seeds

Other States in the Southeast and Mid-Atlantic
Berea College Farm
Care of the Earth CSA
Elizabeth Malayater
Julie Schaer
Monica Williams & Bill Whipple
Nick Maravell
Rodger's Heirlooms
Salamander Springs Farm
Tim Fields

Around the US
Appalachian Heirloom Plant Farm
Dancing Bear Farm
The Family Farmers' Seed Cooperative
Millberg Farm
Troy Teets