Rodger's Heirlooms
Rodger Winn has been a seed saver and avid gardener since childhood. In 2012, when we last checked, he was one of only 42 certified organic growers in South Carolina. He is especially passionate about beans, as he has vivid memories of visiting his grandmother on her farm in Alabama and watching her "ooh" and "ahh" over colors and patterns while shelling multicolored butterbeans.
Rodger introduced Zelma Zesta, a Southern legacy bean from Georgia, to Southern Expousure in 2006. It was developed by his wife's great-uncle JC Meetze, who selected it for long, straight pods over generations. When Rodger first planted the variety, he loved the way it grew and passed it along to other gardeners left and right. "I'm the reason that seed stayed around," Rodger says. At Southern Exposure, we're grateful for that, as Zelma Zesta sells out year after year!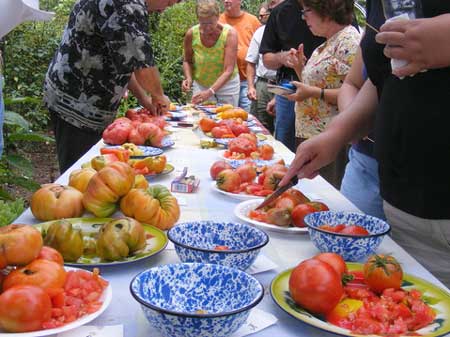 When Rodger heard Merlyn Nieden talk about how commercial seed is dominated by so few varieties with just a few companies controlling them, he realized there was a problem. "It dawned on me--save and preserve seed, but I had already lost a seed from my aunt and uncle," he says. "There are lots of varieties that just disappear every year."
"I never would have thought anyone else in the world could get as excited about a bean as you." Rodger Winn's daughter-in-law said to him at a seed swap in Berea, KY, where there was a whole roomful of fellow heirloom enthusiasts. As part of his outreach efforts, Rodger has written articles for local papers and magazines; taught seminars at groceries, nurseries and garden clubs; and even hosts seed swaps and heirloom tomato tastings in his South Carolina home. It is important to him to introduce people to the unique stories, flavors and local connections that heirloom varieties have to offer.