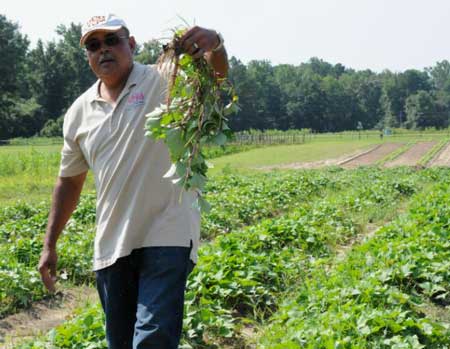 Clifton Slade is a third generation farmer and part-time extension agent with Virginia State University. He started growing seed in 2011 as part of his transition into organic farming. Until recently, Clif--like most of his agriculturally-focused neighbors in Surry, VA--was a "big tractor" farmer, cultivating acres of genetically modified corn and soy each year. His "aha" moment came six years ago when he was assisting with the extension office's 20-variety trial on corn and noticed that wildlife completely avoided eating the GMO varieties. "It really woke me up." he says. "Wildlife is smarter than we are!"
Now, Clif has reduced his operation to two acres of organic produce and heirloom seed plots. He spends a great deal of time caring for those acres, intensively weeding, mulching and fertilizing. This confounds his neighbors. Clif says, "[They] look at me like I'm crazy and ask, "Why're you pulling weeds when you could use Round-Up Ready corn and soy?" However, he makes the same amount of money on his two acres than they make on 300! "Their profit margins are so close--25 to 30 dollars an acre." he explains. "They have to borrow money from the bank to pay for the diesel for their great big tractors. I'm blessed to operate out of my pocket. I work just as hard as they do but I know that what I'm selling, whether seed or produce, is a good, wholesome product."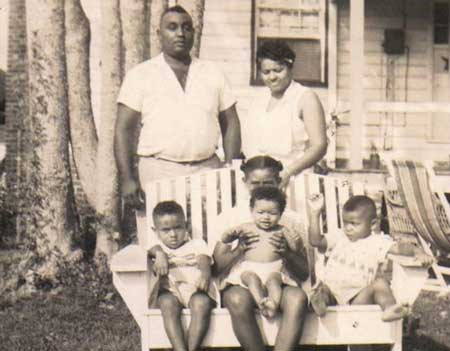 Clif feels honored to be cultivating the same land he grew up on. As a child, he remembers his father putting him and his siblings to work planting and harvesting sweet potatoes. The strenuous work turned Clif off, so he vowed that he would never be a farmer. He left the farm and went to college but his daddy kept trying to convince him to take out a loan, pay the farm off and come back to the land to farm it. Finally, Clifton agreed. Days later, Clif's father suffered a stroke and died. "He was trying to hold out until my values changed." Clif says.
Now, among other things, Clifton supplies Southern Exposure with sweet potato slips. The heirloom variety he grew up helping his daddy to produce, Virginia Baker, slipped into obscurity between the time Clif left for college and returned to the farm. While he was growing other varieties of slips and searching for Virginia Baker, he said he "would give [his] right arm to find some of those slips again." When a Mr. Roundtree read that quote in a local paper, he called Clif to refer him to a the owners of Orapeake farms in Corapeake, NC, just South of the Virginia border, who had Virginia Baker sweet potoates. The loss and recovery of this variety is one of the reasons Clif believes in being a seed saver. He feels that, by keeping old varieties alive, he is part of preserving a legacy for his four children and future grandchildren.