Barbara Rosholdt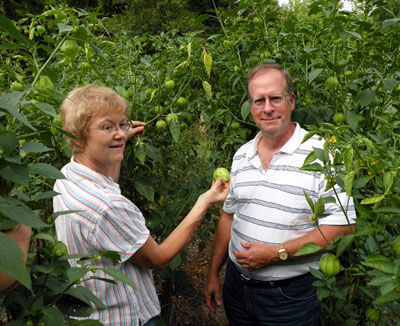 Barbara Rosholdt lives in Louisa County, Virginia, 3 miles from SESE's own farm. She and her husband Erling live in an innovative, energy-efficient concrete dome home. They have 13 acres of land, and tend orchards, animals, and vegetables for eating, but they also find time for seed crops like beans, peppers, and tomatoes. Barbara likes experimenting with native and rare heirloom animals and crops. Many times she's stopped by with interesting new varieties for us to look at, like Everona Large Green tomatillo, which she came across at a friend's sheep dairy farm.
Barbara grew up on an Ohio farm. She's a longtime grower and seedsaver, and a handy ally for Southern Exposure. We trust her with small amounts of very rare seeds to do increases so that we'll have enough seedstock to the grow larger seed crops that we'll list for sale.
Like on many homesteads, Erling's city work helps pay their bills, but Barbara is already retired and is full time on the farm.