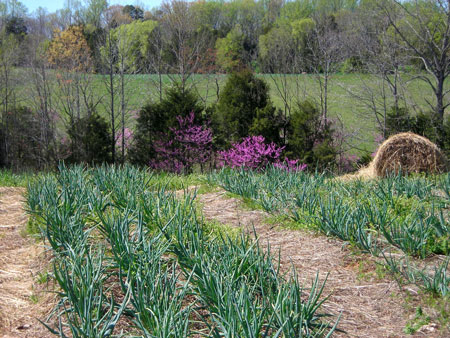 Product Questions
Shipping Questions
General Questions
---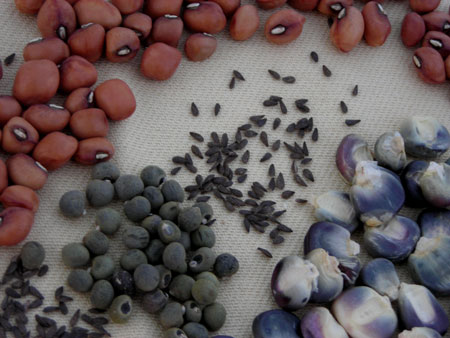 Product Questions
Where do your seeds come from?
Unlike most seed companies, we work directly with many small farmers who grow seed for us, and we grow seeds on our own farm. Over half the varieties in our catalog and on our website are seed grown by this network. Many of these farms are in the Southeast; others are spread across the US.
We also buy seed from wholesale companies. Of this, about 1% is from Canada and 2% is organic seed imported from Israel. The rest is from the U.S. companies, though some of our wholesalers buy seed from outside the U.S.
Where do your seeds grow well?
We choose our variety selection based on what does well in the Mid-Atlantic and Southeast. They generally will also do pretty well in the Midwest (some of our seed growers are located there!) If you live in the Deep South, look for pepper and tomato varieties with good disease resistance, and for southern peas that are vining types. If you live in the Northeast, North, or Pacific NW, when looking for summer crops like tomatoes, peppers, eggplants, melons, peanuts, and okra, choose ones with early maturity dates (listed at the beginning of the variety descriptions). In the Pacific NW, some especially heat-loving crops like cotton, okra, and roselle don't grow well. In Hawaii, growing conditions vary so much - there are so many different micro-climates - that it's impossible for us to guess what will do well. If you live in Hawaii, we suggest asking your neighbors what varieties do well for them.
How much of your seed is organic?
73% of our varieties, as of the 2014 catalog. This percentage has been slowly increasing over time. We're carrying more organic seed all the time, but there are many varieties that we just can't get organically right now. Certified organic varieties are marked with the green "OG" symbol. Since certified organic farmers must plant certified organic seeds when available, we prioritize offering USDA certified organic seed for varieties that are particularly well-suited to market gardeners.
Several of our growers are using organic practices without getting the certification. As of our 2014 catalog, this is about 14% of our varieties. Usually these are small farmers who don't feel it's worth their time and money to be certified. In these cases, we use the green "e" symbol to note varieties that they've grown. Some of these Eco folks have an alternative certification through Certified Naturally Grown, which is not an Organic certification, but uses roughly the same criteria.
Is any of your seed hybrid?
Over 99% of our seed is open-pollinated (non-hybrid). In our 2014 catalog, we have 4 hybrids (1 broccoli, 1 onion, and 2 corns). We carry these 4 hybrids because they are exceptional performers, have no open-pollinated counterpart, and have been requested by our customers. We offer hybrid sweet corns as a service to customers who want to purchase hybrid corn seed that is free of fungicidal treatment. Our hybrids are all clearly labeled as hybrid on our website, in our catalog, and on our seed packets.
Is any of your seed treated?
We do not sell any chemically treated seed. A few of our seed lots are dusted with diatomaceous earth, an organically-approved insect deterrent.
What does "heirloom" mean?
The most conservative definition is: any variety dating to 1940 or earlier. This is the definition we use for our catalog. After 1940, most new plant varieties were bred for large-scale chemical agriculture - for regular irrigation, chemical fertilization and use of chemical pesticides. Newer varieties are often less hardy than heirlooms. However, this is a complex question, and some folks think that "heirloom" can be applied to some post-1940 varieties. ("Heirloom," like "antique," is a term than is often adjusted over time.) We use the hourglass symbol to note which varieties are heirlooms.
Is your seed GMO-free?
We've signed the Safe Seed Pledge - we don't knowingly buy or sell genetically engineered seeds or plants. However, we don't test our seed lots for GMO contamination; the cost is prohibitive.
Corn has the greatest risk of contamination. Risks also exist for cotton, soybeans, beets, chard, flax, rutabagas, turnips, chinese cabbage, asian mustard (B. rapa), asian kale (B. napus), rapini, and some squash. For some of these crops, the risk comes from potential cross-pollination with canola or sugar beets.
Do you sell seeds from Monsanto?
We don't buy anything from Monsanto, or from any company owned by Monsanto. Several years ago Monsanto bought out a large vegetable seed producer named Seminis that we previously got a few varieties from; we either stopped carrying those varieties, or got our own growers to produce them instead.
What do the numbers on your packets mean?
Above the crop type, we print the five-digit catalog number/ SKU we use for the variety. In the case of bulk packets, we put a letter at the end of this number. Below the variety name, on the left, we print the germination percentage for the lot the seed came from. (Often the percentage that sprouts in a germination test will be higher than the percentage that sprouts in a greenhouse or field, as in the lab no seeds will be eaten, trampled, etc, and conditions may be more predictable.) Below the germination percentage, we print the date (month and year) when the seed was packed. Below the variety name on the right, we print the lot number that the seed came from, which we use to keep track of which seed came from which sources. Below the lot number, we print the minimum weight in grams. There are 28.35 grams in an ounce, or 0.035 ounce in a gram. A seven-gram packet weighs about a quarter-ounce; a 14-gram packet weighs about half an ounce; 28-gram packet weighs about an ounce; a 57-gram packet weighs about 2 ounces; a 114-gram packet weighs about a quarter-pound; a 228-gram packet weighs about a half-pound; a 454-gram package weighs about a pound.
Can I order seed from you year-round?
Our seeds and supplies are in stock year-round. Germination testing continues regularly and we ship seeds throughout the year. Occasionally a variety becomes unavailable due to a crop failure, short supply, or selling out due to high demand. Sold out varieties are indicated with the product description. Our prices are updated in early to mid December when our new catalog comes out.
Do you sell bulk seed?
You can look through all the bulk sizes we offer here. If you're looking for much more of a variety than the largest size we list on our website, give us a call and ask to talk to Ken, our inventory manager. If it's a small-seeded crop (tomatoes, peppers, eggplant, okra, flowers, herbs, etc.) then there's a good chance that we'll have enough seed to offer a bulk quote. If it's about larger seed (beans, corn, etc), then we probably can't offer a bulk price, and might not even have enough available to sell you the full quantity you're looking for. We are a small company, and we just don't have enough inventory/storage space to be able to sell large seed at low bulk prices.
Do you sell seed for making sprouts?
None of the seed we sell has been certified for food-grade use (i.e., been tested for E. coli, salmonella, etc.) Johnny's and High Mowing sell some sprouting seed.
If you're sold out of a crop, can I pre-order seeds from next year's crop?
We're sorry, but it would be too complicated to keep track of this. Until the next crop is in and tested, we can't make it available.
This variety was in your catalog, but it's listed as sold out the website?
Early in the winter, if a variety's still in germination test, we'll list the expected date we hope to have the seed available, assuming the seed passes the test. Later in the season, once a variety's listed as sold out, it's generally sold out until the next winter.
How many seeds do I get?
The top of each category page gives the typical packet size, how many seeds to expect, and how many row-feet this plants in the garden (above the listing of products). This information is also given at the bottom of the growing guide for each crop. Any exceptions are noted at the end of the variety descriptions.
My seeds didn't germinate!
All our seed lots have their germination tested. The percentage that germinate in our tests is printed on the left side of the packet, above the packing date. Our vegetable growing guides, also printed in our catalog at the beginnings of their respective crop sections, have lots of useful growing information, including about how to get different crops to germinate. Feel free to give us a call if you'd like further advice or if, in spite of appropriate conditions, your seeds don't germinate.
How long will my seeds last?
Most seed will last for 2-4 years if stored in a cool, dry, dark place. For best quality, seed needs to be fully dry before storing. Most seeds will keep best if stored in an airtight container in the freezer.
Be aware that germination goes down over time, so you may need to sow more of your older seed to get the number of plants you want. We offer seed saving supplies to help you dry and store seed for longer periods.
Some types of seed, like onions and parsnips, lose viability much more quickly. For these it is best to buy or save new seed each year.
Older seed can be used in the kitchen!
How should I store my seeds?
Store your seeds in a cool, dry, dark place, and keep them protected from insects. An airtight container in the freezer works best for most seeds. A mason jar with a two-piece lid is suitable; when using other jars, it's best to seal the rim by wrapping it in a thin strip of sealing and grafting film. Be sure to let the container return to room temperature before opening it. Otherwise, water may condense on the seeds and cause rotting or premature sprouting.
A good rule of thumb is that the sum of the temperature (in Fahrenheit) and the percent humidity should be less than 100 (the seed storage index). For example, seeds stored at 50% humidity and 40 degrees Fahrenheit will have a seed storage index of 90 (50 + 40 = 90). In general, the cooler and drier you keep your seeds (the lower the seed storage index), the longer they will last.
How long before I can harvest this variety?
Days to maturity is generally given at the beginning of the description for each variety. Days to maturity is based on our experience here in Central Virginia (zone 7a). Maturity will vary with your own location, time of planting, weather, etc. For example, beans planted in June (when it's hotter and days are longer) will mature faster than beans planted in April. For most crops we give the number of days from sowing. For certain crops, like tomatoes and broccoli, we give the number of days from transplanting to harvest; this is specified at the end of the crop's growing guide.
Why don't you grow seed potatoes here in Virginia?
Potatoes grow best in cooler climates. It's healthiest to have the seed potatoes grown in cold areas like Maine, where our potato grower (Wood Prairie Farm) is located. This keeps the potatoes from getting diseases that could be passed on to customers? properties.
---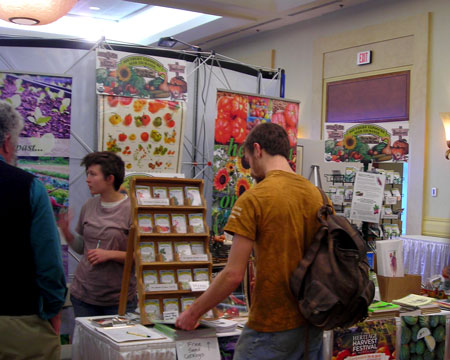 Shipping Questions
How much do you charge for shipping and handling?
Our minimum shipping charge is $3.50, which is for orders under $10.00. For orders of $10.01-$30.00, we charge $4.50; for orders of $30.01-$60.00, we charge $5.50; for orders of $60.01-120.00 we charge $6.50. For orders over $120, we charge 5% of the order total.
Can I pick my seeds up instead of having them shipped to me?
We don't have a storefront. Except on scheduled tour days, we don't allow customers to pick up seeds at our farm. Our seed business is run out of a crowded office on our farm, and too often when someone has tried to pick up an order, it's meant extra time to track down the order.
We do have booths at various agricultural events. Our seeds are also available in nearby retail stores and garden centers, but many of our varieties are available only by catalog. If you would like to see our seeds offered in a store near you, you can give them the contact information for our seed racks program, to seedracks (at) southernexposure.com and phone # (540) 894-7890
Can you mail seeds abroad?
Only to Canada and Mexico. It takes a lot of time to fill out customs forms and calculate foreign shipping, and too often the seeds sent to other countries get lost in the mail or don't make it through customs. Phytosanitary certificates are beyond our means.
We cannot under any conditions mail peanuts or live plant material abroad, even to Canada. Live plant material includes potatoes, sweet potatoes, mushrooms, garlic, perennial onions, perennial leeks, shallots, ginseng and goldenseal.
Can you ship to Alaska, Hawaii, Puerto Rico, and US Territories?
We can ship seeds to these locations, with the exception of Ginseng seed, and, in the case of Hawaii, Job's Tears seed and St. Johnswort seed.
We can ship potatoes, bulbs, and rootstock to Alaska and Hawaii, but not to US Territories, Puerto Rico, or APO/ FPO (military) addresses.
We cannot ship sweet potatoes or live plants to Hawaii, Alaska, Puerto Rico, U.S. Territories, or APO/ FPO (military) addresses.
Can you ship UPS?
We're sorry, we can't. We only use the US Postal Service. Using two different shipping systems is too complicated, and UPS is not set up to pick up from our farm. Sometimes our potatoes are shipped via UPS directly from the farm that grows them in Maine.
Can you ship to P.O. boxes?
P. O. Boxes are fine unless you're ordering 10 lbs of potatoes or more.
Can you ship via extra-fast mail, such as Next Day Air?
We're really not set up to do this. It would take us a 30-minute round trip to drop off the package, and in addition the postage itself would cost quite a bit.
Do you have tracking #s for packages?
Yes, in 2016 we switched to a postage system that adds a tracking number to each package and includes the tracking numbers in our order shipment e-mails.
Can I return seeds?
We require prior authorization for the return of any of our products. Packets must be returned, unopened, within 30 days. Improper storage can damage seeds, so we need to have seeds returned to us as soon as possible.
I placed an order but forgot an item. Can I add it to avoid paying for shipping twice?
We're sorry, at this point we can't add items to orders after they've been placed. This is partly because once we've printed an order out, adding an item would require finding the physical paperwork. Given our high volume of orders, this is often time-consuming, and especially so when our order volume is highest and we're and most pressed for time trying to get everyone's seeds in the mail as quickly as we can.
When can I get seasonal items?
You may order seasonal items year round, but they will be shipped separately from the rest of your order, at a time appropriate for planting. Potatoes and sweet potatoes are shipped in the spring, to southern-most areas first. Perennial onion bulbs, garlic, ginseng and goldenseal are shipped in the fall, to northern-most areas first. There are shipping surcharges are for all seasonal items.
We have found that fall planting of perennial onions gives superior results in most areas of the country, with yields often twice those obtained from spring planted bulbs. Ginseng, goldenseal, and garlic also are best planted in the fall. All fall seasonal shipments come with a growing guide. We begin shipping fall items in September.
Potatoes ship directly from the farm in Maine where they are grown. Shipments begin in March. Earlier shipments are not possible due to the danger of freezing damage in transit.
Why can't you ship peanuts to California, cotton to Georgia, milk thistle to Texas, etc.?
Some states prohibit the shipment of certain kinds of seed into the state. We can't make exceptions. The laws are either about protecting large commercial crops like peanuts and cotton from possible bugs and diseases, or about preventing "nuisance" plants like milk thistle from escaping into the wild and becoming weeds.
If you send seeds by mail, will they be irradiated?
No. The only mail the post office irradiates is to government buildings in Washington D.C. (for zip codes 20201-20597).
For a while after the anthrax scare in 2001 the post office did consider irradiating mail sent everywhere. But the machines were too slow and expensive and so they gave it up.
(Note that a lot of our seed is mailed to us by our growers, and so if the postal service were irradiating, it would already be irradiated.)
We're sorry, but we can't honor special requests to mail packages Parcel Post or UPS.
---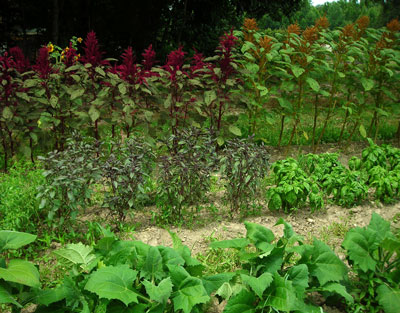 General Questions
Where can I find your organic certificate?
We're certified by QCS, which is based in Florida.
Our current organic certificate is available here as a PDF.
Why haven't I gotten my catalog?
We mail catalogs in December to anyone who has requested a catalog - or ordered from us - in the previous two years. We only send bulk catalog mailings to U.S. addresses; Canadian customers need to contact us directly to ask us to send a catalog first class. During the busy season (January-April), we try to mail out catalogs each week to new customers and folks who ask for one; the rest of the year, it's every 2-4 weeks if we have catalogs available. If you expected a catalog with the initial mailing but still haven't received one in January or if you don't get one for 3 weeks or so after requesting one, call us and we'll be happy to mail you another.
Can I send you a seed sample?
Yes! However, we've got a backlog of things to trial, so we may not get the chance to actually grow it out for a few years! If you do send one, it's very helpful if you enclose information about it: where it's from, history, how it tastes, methods of preparation, any non-food uses, etc.
Can I come visit your farm?
Since 2011 we have organized yearly Southern Exposure farm tours for customers in the summer. We hope to have such farm tours a couple times a year, in the future - but we're not making promises! We regret that we are not able to invite customers to our property at other times, and we do not have a storefront.
Why don't you have such-and-such seed this year? You used to!
If it had low sales, we may have decided not to carry it this year - especially if it's carried by various other companies. But it's more likely that there was a crop failure. There are various ways a crop failure may come about: 1) bad weather, 2) harvested seed having low germination, 3) pests (bugs, crows, deer, raccoons, etc.) eating the plants or the seed, 4) early frosts, 5) illness, 6) other. Wholesale companies as well as small growers can have crop failures and small crops. Many varieties we carry are unique and we're the only catalog offering them, so if there's crop failure, we're out of seed until another crop can be grown.
When do you make seeds from new crops available?
As crops are harvested, cleaned and tested, varieties that have been sold out start going back up on the website in October and continue through December. Varieties we haven't offered before become available in December, when the new catalog comes out.
Do you send donation seeds?
Yes, we do. Send an e-mail, addressed to Irena, to gardens (at) southernexposure.com. Include:
(1) the name and address of the organization,
(2) a brief description of your mission and goals,
(3) the numbers of people/ families/ schools/ etc you work with, and/or the amount of land you cultivate, and
(4) whether they are particular crops they'd be most interested in.
We can't fulfill requests for particular varieties. Our supply of donation seed is greatest in late fall and early winter. It may take up to 3 weeks for us to get back to you.
Can I get free catalogs to give out/for an event/for a class, etc?
Yes! However, depending on our supply and the time of year, we may not have as many as you want. It's helpful if you request the catalogs far enough in advance that we can mail them at Media Rate (much cheaper!) Send an e-mail to gardens (at) southernexposure.com
Can someone from SESE come do a table at my event, or give a talk to my garden group?
Sometimes we can, sometimes we can't. Send an e-mail to Ira (at) southernexposure.com
When do I plant?
We provide a recommended planting dates pdf in our library. These are for the Mountains, Inland Plains, and Coastal regions of the mid-Atlantic. They may be used as guidelines elsewhere. Use your own dates of last spring frost and first fall frost to determine which column works best for you. Our growing guides include suggested planting times? generally relative to your last frost dates. Depending on where you live, your local or state agricultural extension service may provide guidelines as to when to plant.
How do I save my own seed?
Our Basic Guide to Seed-Saving for Home Use can get you off to a good start. The growing guide for each crop includes recommended isolation distance for home use. Professional quality seed has stricter isolation distance requirements. The bottom of our growing guides and library page also includes links to several other seed-saving resources.
Consider minimum population size to maintain genetic diversity and prevent inbreeding depression. This varies over a large range with larger populations required for out-crossing crops. For home use a handful of tomato or string bean plants may suffice, but broccoli requires 60-100 plants and corn at least 200. Crops that are mostly self-pollinating can be maintained with relatively few plants and better recover from population bottlenecks.
We sell several books on saving seeds.
There are two basic types of seed saving: wet and dry. Wet seed saving includes tomatoes, eggplant, watermelon, melon, cucumbers, and squash. These seeds must be separated from that fruit and some have a coating that can inhibit germination. We usually briefly ferment these seeds, which helps separate and clean them from the pulp and breaks down the germination-inhibiting coating. Fermentation simply means letting the seed sit in its pulp, often with added water, and stirring 2-3 times a day. Depending on the temperature and seed type, 1-3 days may suffice. Fermenting for too long could induce sprouting! After fermentation, separate seeds from pulp and dry the seeds. Dry seed saving includes corn, beans, lettuce, okras, the brassica family, and most herbs. Generally these seeds simply dry on the plant, or may be harvested just before they finish drying. Depending on your climate, you will most likely need to bring these seeds indoors to complete drying. Even if they appear fully dry at harvest, most of these should be allowed to sit in their seed casings for a couple of weeks to ensure that drying is complete.
Once seed is fully dry, it's a good idea to freeze it in an airtight container for at least 48 hours, to make sure there aren't any live bugs in it.