Sandhill Farm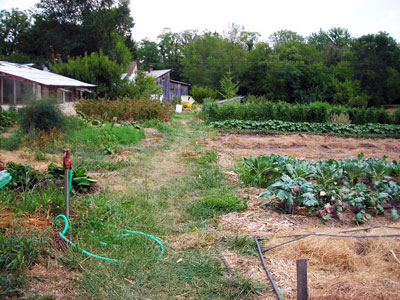 An income-sharing community of friends and family in northern Missouri, Sandhill Farm is famous for its sorghum syrup, and also for its sorghum harvests. In early fall, for a month Sandhill is full of friends coming from all over the country to help harvest 6 acres of sorghum stalks. After the stalks have been pressed and the sorghum juice cooked down, the sorghum syrup is bottled. It's sold in Midwest grocery stores and at local farmers markets, along with other products from their farm, like horseradish sauce, mustards, and various salsas.
Seed growing is part of the farm's income. When possible, they combine food crops and seed crops. They pull pepper seeds from ripe red peppers. They separate tomato seeds from tomato pulp before cooking the pulp into sauce. When cleaning the wheat they grow, they separate out Hairy Vetch cover crop seed that grows in their wheat field.
Self-sufficiency is a big focus of Sandhill: over 80% of their food is grown or raised on the farm, including dried beans, grains, fruit, animals, and honey.