Tim Fields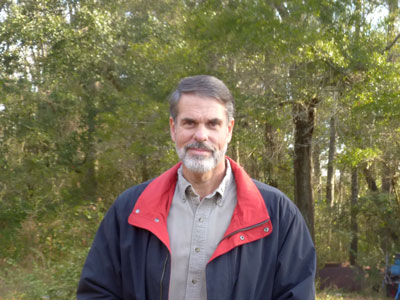 Alabama farmer Tim Fields is one of SESE's longtime growers. For 15 years he has grown a variety of field crops for SESE – cotton, peanuts, southern peas, corn, rice, sorghum, and amaranth, as well as vegetable crops like melons, squash, okra, and collards.
Tim and his wife Norma have 14 acres in Grand Bay, Alabama, in the SW corner, a dozen miles north of the Gulf. Tim grew up nearby on his family's farm, and has been growing crops his whole life. An interest in history, and seeing ads in the state's agricultural bulletin placed by farmers looking for seed for old time varieties, got him interested in growing heirlooms. Back in the early 2000s he called up SESE looking for Big Red Ripper southern peas; we didn't have it in stock, so Tim offered to grow out a seed crop for us, and he's been our best source for it ever since! Tim has been growing seeds full time the last few years for SESE and for Baker Creek Seeds.
Cool, wet summers have been challenging. He's been doing more contour plowing to prevent erosion from unusually heavy downpours, and planting southern peas for fall harvests for when it's normally drier. Growing crops any time in the Deep South, with all its bugs and humidity, is challenging – the seeds Tim gets have great vigor for coming through!