With many children out of school, we thought it was a good time to talk about gardening activities for kids. These fun activities are great for engaging kids with nature and keeping them learning while having fun. They are also perfect for spring.
For more advice on gardening with children check out our other post, Get Your Kids Involved in the Garden!
Start Seeds
One easy project to get the kids involved with is starting your seeds. For many areas, this time of year is perfect for starting seeds indoors though there are a few things you can be direct sowing as well.
For small hands, we recommend big seeds. Cucurbits (cucumbers, pumpkins, melons, and squashes) can be started indoors and are easy to handle. Giving your child a few of their own plants to name and nurture is a great learning experience. Letting them choose varieties also makes it fun. Cinderella pumpkins are a big hit with fairytale fans!
Depending on where you live it may be time to direct sow peas. Growing them on a tipi-like trellis makes a great fort later on.
Paint Flower Pots
This is a great way to spruce up your container garden or porch plantings. Terracotta pots can be painted with acrylic paint. Be sure your pot is fully dry before painting.
Chalkboard paint is also a fun option and allows your kids to redecorate them as often as they want.
Make Plant Markers
Plant markers can easily be made from a variety of materials. Sticks, pieces of lumber, rocks, paint stirrers, seashells, tiles, or even broken pieces of terra-cotta pots.
If you're using sticks, slice off a piece with a sharp knife to create a flat surface. Always cut away from you and supervise children with this task.
All of these can be painted to create colorful plant labels. You may want to use a stencil to keep things neat. Chalkboard paint is another cool idea for seedling labels because you can re-use them for different plants each year.
Press Flowers
Spring flowers are starting to come up in many areas. Preserve a few of these beauties by pressing them.
Collect blemish-free flowers, on a dry day after the dew has dried. Place your flowers face down between two layers of paper in a notebook or book you don't mind getting damaged. Close the book and weigh it down.
Check on your flowers after 7-10 days.
Spring flowers to try:
violets
daffodils
crocuses
snowdrops
sweet peas
forsythia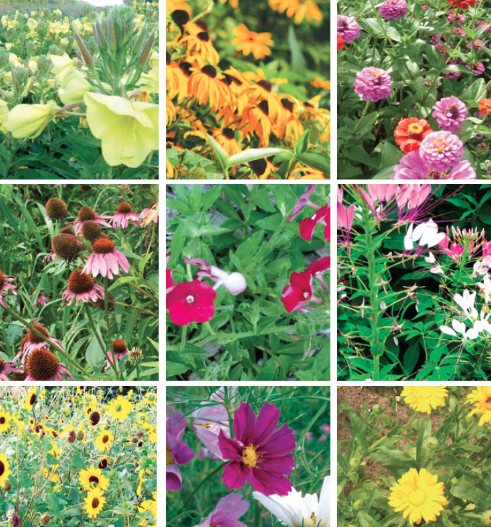 Make Wildflower Seed Bombs
To make seed bombs mix 4 parts potter's clay (find at art supply stores), 1 part compost, 1 part seeds, and 1 part water. Mix these together thoroughly with your hands. It should be easy to form into 1 inch balls. If it's not holding together add a bit more water.
Place them on a cookie sheet to dry for 24-48 hours. They can be tossed or set into flower beds or fields (only on your own property). They also make excellent party favors for zero waste birthday parties!
Make a Butterfly/Bee Watering Station
Butterflies and bees need water just as much as the birds! Unfortunately, they sometimes have difficulty getting water from deep bird bathes.
To create an insect-friendly water station you need a shallow dish or plate and some small rocks or glass pebbles. Fill your plate with the pebbles or rocks and then water so that the pebbles still stick out of the water a bit. It's as simple as that!
Some folks glue the plate to a wooden dowel or stake so it sits up much higher, allowing you to observe your visitors.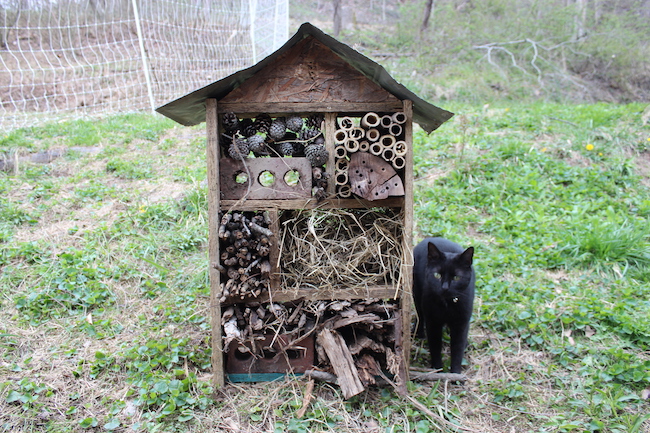 Create an Insect Hotel
Insect hotels create habitat for beneficial insects like solitary bees, wasps, predatory beetles, lacewings, and hoverflies. These insects play an important role in your garden's ecosystem.
They're easy to create, check out our full tutorial here.
Make Garden Paper
You can make your own paper for cards or crafts and include dried plants and flowers.
Here's what you'll need:
a blender
a deckle
a tub larger than you're screen
a sponge
a smooth board or piece of plexiglass
1 cup of shredded paper
2 cups of water
1 Tbs liquid starch
dried flowers or plants
Place your water and paper in the blender and let it soak for at least 30 minutes. After it has soaked, pulse it to puree. The more you blend it the smoother your paper will be. Then add your flowers and plants. You can blend them up more finely or leave the piece large.
Fill your tub with water and add the starch before pouring in your paper slurry. Mix it around.
Lower your deckle into your tub and gently swish it back and forth a bit. When it looks like there's an even layer of slurry on it, lift it out of the tub.
Wipe a sponge across the back of the screen (non-slurry side) to remove excess moisture and remove the mold. Let your paper sit for 20 minutes and then press it onto your board or plies glass. A rubber roller is helpful but you can do this with your hand.
When your paper is completely dried you can gently remove it from the board.
Try some of these activities to help your kids learn to love nature and gardening!