Fall isn't just for veggies. Plant these cool-season mostly annual flowers now through early fall for blooms next spring.
feverfew

bachelor button
sweet peas
calendula
larkspur
poppies

violas (Johnny Jump Ups)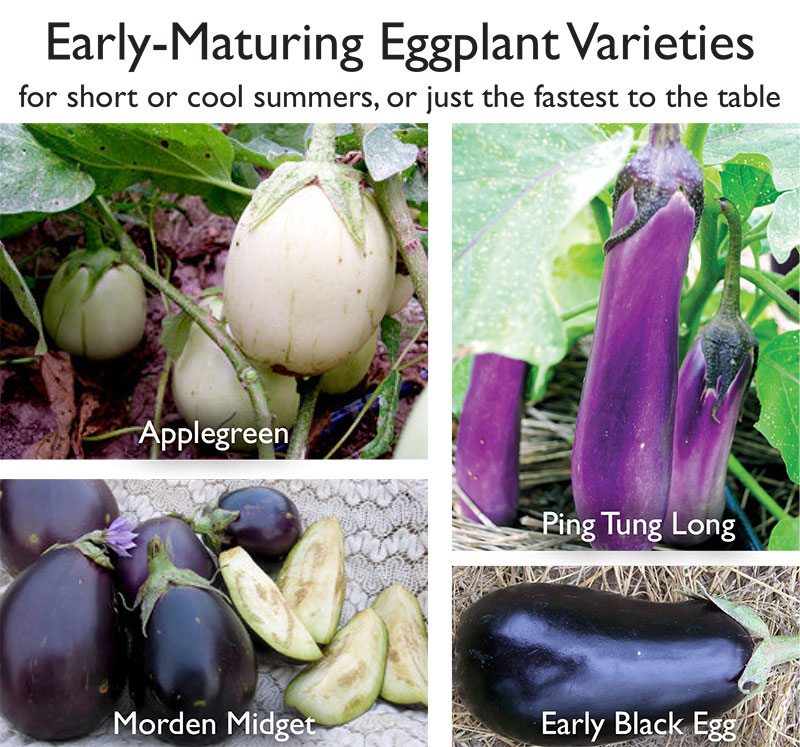 With tomatoes and peppers ubiquitous in vegetable gardens, eggplants are often the nightshade left out. But even if your summers are on the cool side or the short side, you too can have homegrown eggplants. On our farm in central Virginia, shorter season varieties are often our best performing when summer is unusually cool or wet, and their faster-maturing fruits are the first to arrive at the table.
Southern Exposure sells four early-maturing eggplants: Applegreen (65 days, green-white skin), Early Black Egg (65 days, Japanese origin, deep-purple skin), Morden Midget (65 days, Canadian origin, deep-purple skin), and Ping Tung Long (62 days, Taiwanese origin, lavender skin).
I'm partial to long skinny eggplants (I like chopping them into thin half-moons), so Ping Tung Long is my favorite. I find that Asian varieties substitute well in Italian and European recipes. The lavender skins darken with cooking to a purple-tan color.
My current favorite eggplant recipe follows: a Sicilian Caponata. Caponata is vegan and gluten-free, and so full of flavor that no one will notice.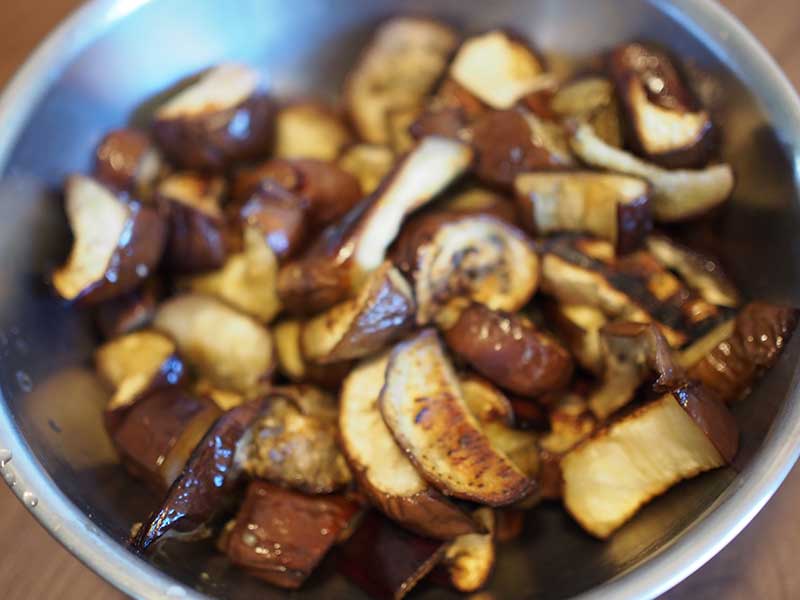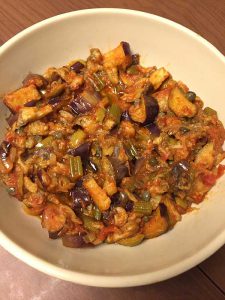 Sicilian Caponata
Adapted from David Lebovitz's blog. Lebovitz requires deep-frying the eggplant in batches. This oven-roasted version cuts the oil somewhat, and is so much easier, and I think tastes just as good.
6 celery stalks
2 pounds eggplant (Italian or Asian types)
olive oil
salt
1 red onion, cut in half and thinly sliced (yellow or white will work but red is best)
1 cup green olives, pitted and chopped
1/4 cup capers, rinsed
1-1/2 cups tomato sauce (as a variation, make a quick, fresh sauce by simmering 3-4 diced Roma-type tomatoes in a small amount of water with salt to taste for 20-30 minutes.)
1/4 cup vinegar (red wine vinegar, white wine vinegar, or apple cider vinegar
2 tablespoons honey (or to taste)
Chopped Italian (flat-leaf) parsley for garnish
Roast the Eggplant:
1. Pre-heat oven to 375 degrees F.
2. Trim the stems off the eggplants, halve lengthwise, and slice into 1/2-inch pieces (half-moons work well for long-types, otherwise 1/2 inch cubes).
3. Toss the eggplant pieces with 1/2 to 1 tsp salt and 1/4 to 1/2 cup olive oil (it will soak up quite a lot). Spread on a baking dish and cook for 30-45 minutes, until the eggplant pieces are soft (easily pierced with a fork) and the skins have begun to darken.
Assemble the Caponata
1. Boil a medium-size pot of water. Cut the celery stalks into 1/2-inch slices. Simmer the celery until just tender, around 7 minutes. Drain and immerse in cold water to stop the cooking.
2. In a large skillet or Dutch oven, heat 2-3 tablespoons olive oil on medium-high heat. Add the sliced onion and cook, stirring frequently until translucent, around 7 minutes. Add the drained celery, olives, capers, tomato sauce, vinegar, and honey and bring to a low boil.
3. Add the eggplant and simmer for 3 to 4 minutes, stirring gently.
4. Taste and add additional salt and vinegar as desired. Transfer to a large shallow serving bowl to cool.
Serving: Allow to cool before serving, or refrigerate and serve the next day (this gives the flavors time to meld). Garnish with the chopped parsley to serve. May also be served as bruschetta — spread on bread slices that have been spread with olive oil and oven-toasted.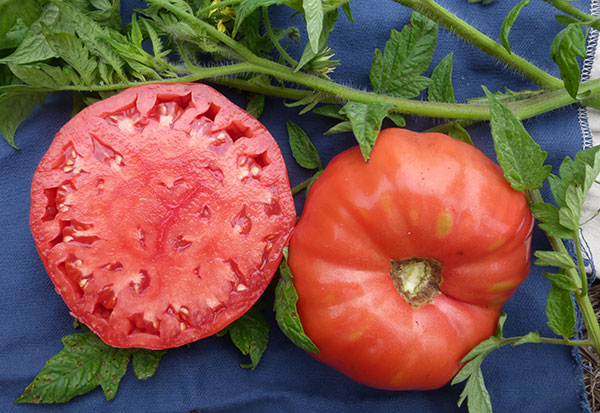 By Ira Wallace, with Lisa Dermer
Mention summer gardens and the first thing to come up is which tomatoes are you growing? Year after year tomatoes are one of the most popular vegetables grown by our customers.  In our 2017 catalog we offer more than 100 different tomato varieties. There are currant tomatoes as small as a dime and big beefsteaks like Mortgage Lifter and Brandywine that can weigh well over a pound (plus every size in between and more shapes than most gardeners can imagine). In addition to the ever popular red and pink varieties there are orange, yellow, black, bi-color and even green varieties. We offer something for every gardener, but how to decide which to grow this year?
There are many criteria that could be used but these four are basic for me:
1. Flavor and texture – the first thing I consider is fruit qualities like flavor and texture for the sandwiches, sauces, and salads we like to eat. Radiator Charlie's Mortgage Lifter tomato (photo top) is a large heirloom slicer with superb flavor, but be prepared for its long season and indeterminate growth habit (read on).
2. Days to maturity – is not just important for those with a short growing season. In many areas of the Southeast there are two seasons for tomatoes and other summer vegetables. The period in late July and August when it is too hot for tomatoes and sweet peppers to set fruit well, means we grow two crops: one to mature before the hottest spell, and one after. Fast-maturing early and medium days to maturity varieties are really important in such areas. Stupice is a favorite early variety: the small-to-medium size fruits have excellent heirloom-type flavor. We also list several Extra-Early tomatoes.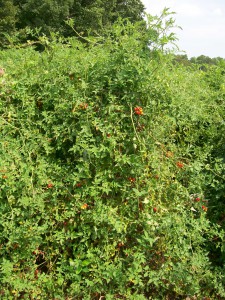 3. Growth style– there are two main growth habits for tomatoes:
-Determinate varieties that grow to a certain height (usually 2-3ft) then stop growing and mature all of the fruit in a short period of time.  Many paste tomatoes are determinate. These varieties are great for canning and well suited to growing in short or split season areas

-Indeterminate tomatoes keep growing, flowering and setting fruit until stopped by frost, disease, or really bad weather. Most Cherry and large beefsteak tomatoes are indeterminate, They need to be caged or staked with a really sturdy support.  Most really large heirloom tomatoes are indeterminate. These varieties are great if you have plenty of space, warm summer temperatures, and a long enough growing season. Delicious and super productive Matt's Wild Cherry (photo) is a very small cherry tomato with tall, determinate plants.
-The Dwarf Tomato Project has given gardeners a new set of options, with short (2-4 feet tall) plants bred from heirlooms, and retaining heirloom flavor quality, that are easier to trellis and to grow in containers. We offer Rosella Purple, for diminutive plants with fantastic fruits similar to Cherokee Purple.
4. Disease resistance-Find out which diseases are common in your area and select resistant varieties whenever possible. As organic gardeners our first line of defense is prevention. When reading a seed catalog or looking at the back of a seed packet, disease resistances are often shown with an abbreviation after the name. For example verticilium (V) and frusarium (F) wilts are common soil-borne tomato diseases. Look for the V or F after the variety name. Nematodes (N) are  another common disease with resistant varieties available. Roma VF and Tropic VFN are excellent disease resistant varieties and show how the disease resistance is sometimes incorporated in the name.
More resources on www.SouthernExposure.com for tomato growers: